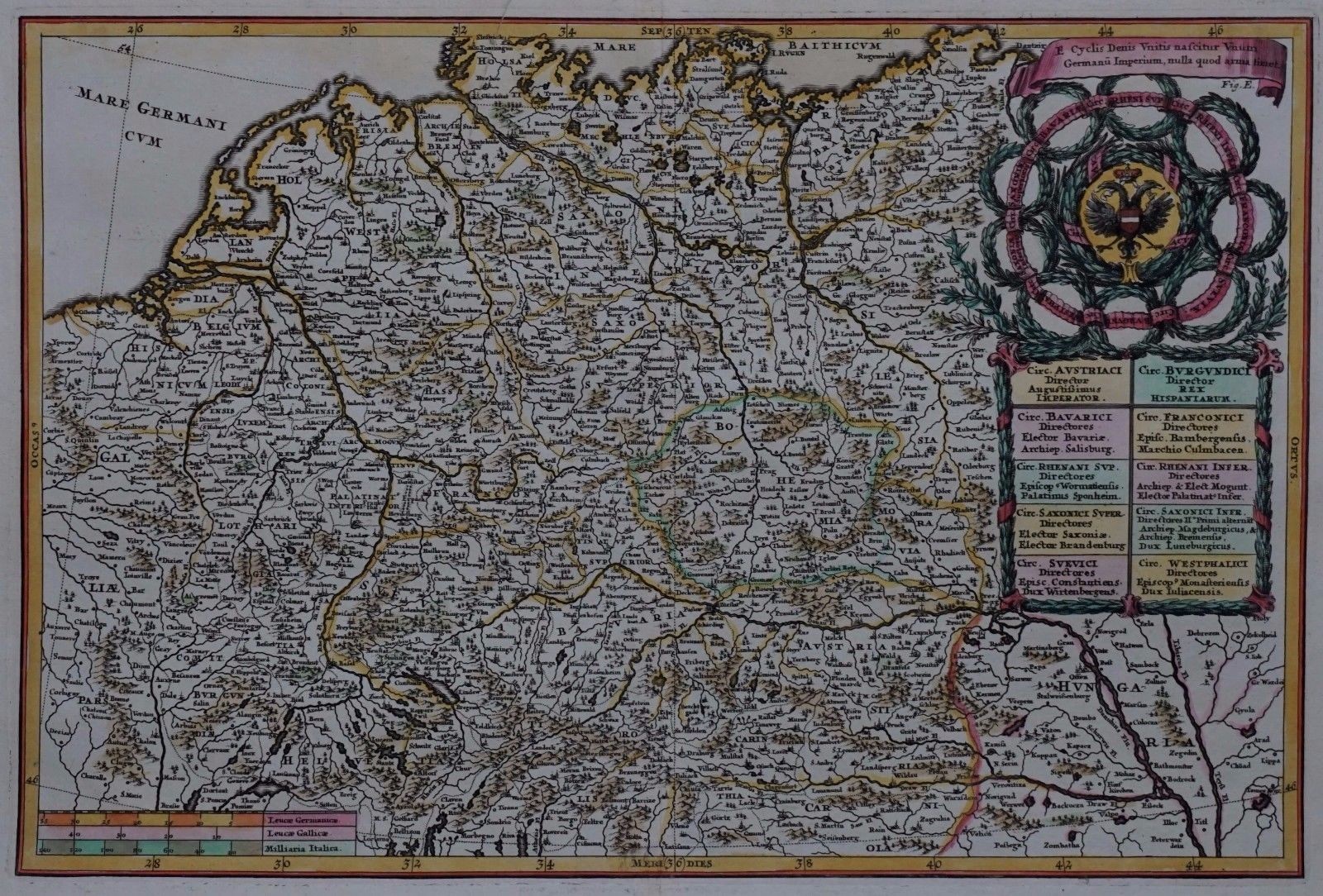 [+] Click for Bigger Image
Deutsches Reich - H. Scherer 1702 - Reichskeise - E Cyclis Denis Unitis ...- Rar
(€399.00)
Located in Hamburg (20095)
Go To Store!
---
E Cyclis Denis Unitis nascitur Unum Germanu Imperium
(Reichskreise)
Es handelt sich hierbei um eine originale, kolorierte Kupferstich-Landkarte der Reichskreise von Heinrich Scherer aus dem Jahr 1702.
Titel: E Cyclis Denis Unitis nascitur Unum Germanu Imperium, nulla quod arma timet.
Gebiet bzw. Ort: Heiliges Römisches Reich Deutscher Nation - Reichskreise
Kartograph: Heinrich Scherer (1628 - 1704) 
Jahr: 1702
Größe des Plattenbereichs: 23 x 35 cm
Technik: Kupferstich
Zustand (Perfekt/ Sehr gut/ Gut/ Ordentlich/ Mäßig/ Schlecht): In gutem Erhaltungszustand. Am oberen Rand in der linken Bildhälfte eine unauffällige Quetschfalte aus dem Druckprozess.
Bemerkungen: Die seltene, dekorative Karte zeigt das Heilige Römische Reich Deutscher Nation, aufgeteilt in Reichskreise. Der Kartenbereich wird durch eine Lorbeerkartusche mit Reichsadler, eine erklärende Tabelle und einen Meilenzeiger ergänzt.
English description:




A rare, original map of the whole of the Holy Roman Empire, divided into imperial circles. The decorative map was published by Heinrich Scherer in 1702. It is enriched by an elaborated cartouche including an Imperial Eagle, a chart of the imperial circles and a mile scale. The map measures 23 x 35 cm (platesize) and is in good condition with un unobtrusive printer's fold at the upper margin.



- - - International buyers welcome. If you have any questions, please don't hesitate to ask. - - -
---  Auf Wunsch stellen wir Ihnen gerne ein kostenfreies Echtheitszertifikat aus  ---
---  If you wish, we will gladly provide a certificate of authenticity free of charge  ---